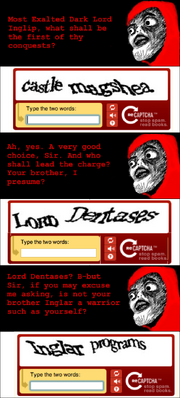 Inglar is the brother of Inglip. However he is not a great warrior, a brilliant general or even a high ranking religious figure. He is in fact, just a programmer.
Information.
Edit
Inglip ordered a siege on Castle Magshea, and chose Lord Dentases to lead the assault. A foolish Gropaga questioned Inglip on why he chose Lord Dentases and not his brother, to which Inglip replied, "Inglar programs".
"I am not Sheboygyan."
"As you should know, Inglip is omniscient."
-The only direct messeges spoken by Inglar
External links
Edit
Community content is available under
CC-BY-SA
unless otherwise noted.