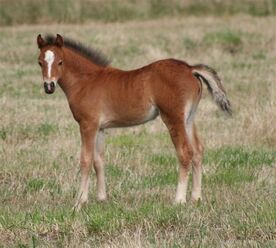 The Wingana (given name: Saucy Girl II) is a powerful horse creature residing in the tallest peaks of Tillyner. She is the guardian of said mountain and the mistress of winds. When Lord Inglip ordered a Gropaga to take Tillyner for Trathira by using a powerfull duark ( a dragon ), the gropaga was warned of the Wingana, and he promised not to show any mercy to the Wingana. The Wingana has most likely been slain, but considering its power and status as guardian of the land, it was most likely not an easy task even for a duark and it's rider as it may seem to be. Due to her name, it may be assumed that she has a mother with equal (if not greater) power to hers and that the horse form might just be a facade that hides her true and potentially more powerful form.
Duark - the creature that is used to slay the beast.
External link
Edit
Community content is available under
CC-BY-SA
unless otherwise noted.